The Wastebuster Homework Specials
This year you can work towards a special Wastebuster award and explore the issue of waste with our brand-new Homework Specials. You can positively support and engage your whole school community to 'go green' with these fun enrichment activities, and encourage everyone to be a more responsible consumer, reduce waste and recycle more.
We have six Homework Specials to complete: Halloween, Christmas, New Year, Waste Week, Easter and Summer 2021. Each has top tips for reducing, reusing and recycling and asks children to write or draw what they have done to be 'greener'.
Taking part is easy: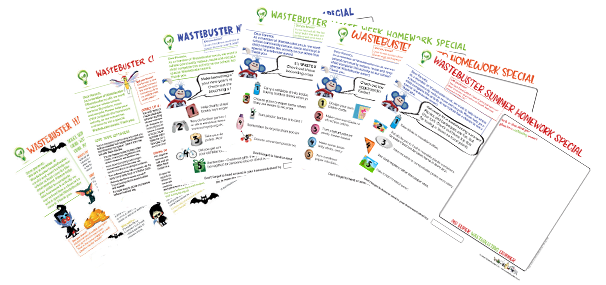 Download the latest West Sussex Homework Special here.
Send a sheet home with each pupil to complete.
Hold a class 'show and tell', so each pupil can share their sheet and explain what they did to reduce waste.
Take a photo and email us your favourite Homework Sheet/s – your class could vote for their favourite – and tell us how many pupils took part.
You'll receive an Award Certificate for each Homework Special completed, and your favourite Homework Sheet/s could appear on our social media channels too.
PLUS every school that takes part in all homework activities and sends in the homework sheets will win a personalised video from Busta at the end of the school year*!
*Keep hold of your homework sheets as proof of entry. The school with the highest number of pupils that have taken part at the end of the school year will win the personalised video from Busta.